NEW

LED DayLite® WireLessIR

HDi
NEW HDi –
High Definition Imaging Technology
Patent pending advanced photonic design provides a uniform field of light distribution with fiberoptic quality light.
Totally Wire Free -
No cords, no battery pack
Intuitive Respons (IR)
Touch-Free Operation -
– Eliminates cross contamination
Modular Design -
clips onto your existing loupes!
Up to 50% Lighter Weight than
other cordless models
Patented Technology:
8,851,709
RE46,463
9,791,138
---
The LED DayLite® Wireless IR HDi is a totally self-contained headlight that can integrate with various platforms including your existing loupes, safety eyewear, lightweight headbands, and future loupes or eyewear purchases. It is not limited to one pair of loupes or built into a specific eyeglass frame and can be easily transferred from one platform to another. It weighs only 1.4 ounces and when attached to a pair of loupes, the combined weight is half as much as weight of integrated cordless lights/loupes.
The LED DayLite WirLess IR HDi produces 45,000 lux at high intensity and 33,000 lux at medium intensity with touch-free operation. The spot size will evenly illuminate the entire oral cavity.


The LED DayLite WireLess IR HDi is powered by a compact, rechargeable lithium-ion power pod. The LED DayLite WireLess comes complete with three power pods. The charging cradle allows you to independently re-charge two power pods at the same time and shows the progress of each charge cycle.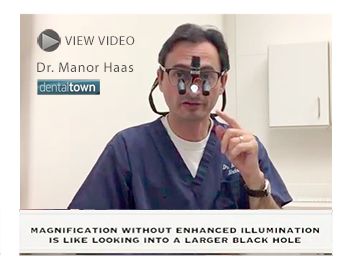 Dr. Manor Haas
Video review of magnification
and wireless illumination