NEW
Aerosol Protection Loupes
Fulfills CDC Eye Protection Guidance for dental settings during COVID-19:
In areas where there is "moderate to substantial community transmission" and a patient is not suspected of SARS-CoV-2 infection, providers should wear eye protection in addition to face masks.

Silicone eyecup creates a seal around your eyes to protect against aerosols
Aerosol Protection Loupes
provide adjustable spring hinges and wire core temples to ensure a secure adjustable fit.
Removeable Silicone Eyecups are soft, lightweight and comfortable and provide a complete orbital sealing fit. They attach to the frame magnetically and are easy to remove for cleaning and disinfecting.
Aerosol Protection Loupes are available in 2.5x, 3.0x and 3.5x magnifications with your choice of two frame styles and each ship with TWO pair of silicone eyecups.
Ziena Kai Frame
available in black (shown) and tortoise
Ziena Marina Frame
available in tortoise (shown) and black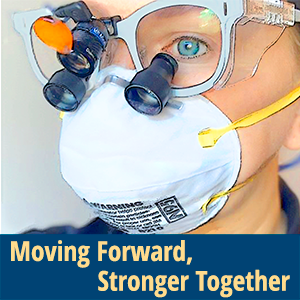 NEW Aerosol Protection and PPE Information