LED DayLite® WireLess

Totally WireLess Headlight -
no cords, no battery pack
Modular Design -
clips onto your existing loupes!
Up to 50% Lighter Weight than
other cordless models
Capacitive Touch operation:
40,000 lux high intensity
27,000 lux medium intensity
---
See what they are saying:

Video Demo
OR
Dental Economics Article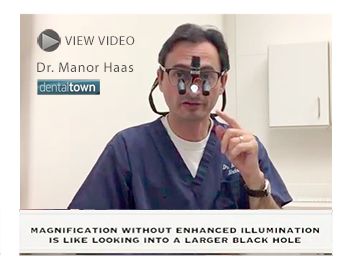 Dr. Manor Haas
Video review of magnification
and wireless illumination


---
The patent pending design of the LED DayLite® WirelessTM is a new concept; a self-contained headlight that can integrate with various platforms including your existing loupes, safety eyewear, lightweight headbands, and future loupes or eyewear purchases.
The LED DayLite WireLess is not limited to one pair of loupes or built into a specific eyeglass frame and can be easily transferred from one platform to another. It weighs only 1.4 ounces and when attached to a pair of loupes, the combined weight is half as much as weight of integrated cordless lights/loupes.
The product produces over 40,000 lux at high intensity and 27,000 lux at medium intensity. The spot size of the LED DayLite WireLess will illuminate the entire oral cavity. The function of the headlight is controlled via capacitive touch.
The LED DayLite WireLess is powered by a compact, rechargeable lithium-ion power pod. The LED DayLite WireLess comes complete with three power pods. The charging cradle allows you to independently re-charge two power pods at the same time and shows the progress of each charge cycle.